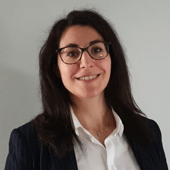 Annina Berglund
Compliance specialist, Marine & Transport – Marine & Transport underwriting
What is your background?
I have a master's degree in economics, majoring in accounting and commercial law as a minor. I have a broad experience in finance, with everything from reporting to compiling financial statements for listed companies. In addition, I have experience of working with risk management from different perspectives, including auditing, operational risks and now with a focus on money laundering and sanctions. I was introduced to the shipping industry early on, as I worked summers at Viking Line during my studies.
Why did you apply for a job at Alandia?
When I applied to Alandia, I was excited about the challenge of implementing Solvency II reporting, but I also quickly and unexpectedly became fond of the insurance business and the international environment in which Alandia operates.
What do you do at your job?
As a Compliance Specialist in Commercial Marine, I ensure that we know our customers and stay within our risk appetite in regard to potential threats of money laundering, terrorist financing activities and sanctions risks. This involves everything from following updates in regulations and adapting routines, to making risk assessments both at portfolio level and for individual risks.
A day at work can involve assessing the risks associated with a ship's call to a sanctioned area, investigating the wealth of a superyacht owner, and informing our underwriters of the latest sanctions developments.
How are you required to perform and what skills do you need to have in order to be successful in your work?
My job is both exciting and above all developing for a person like me who is driven and likes problem solving. In order to be successful at this job, you need to be structured, responsible and social. It is also an advantage to see things from a holistic perspective, and to have a desire to constantly challenge whether we can do things in a better way.
With a direct connection to our customers' international operations, there are large differences between requests and time is often limited. You should therefore also have a liking for doing several things simultaneously, and be able to quickly grasp large amounts of text and identify important points.
What do you find particularly fun and challenging about your job?
The fun thing about my job is that I get to familiarize myself with our customers' businesses, and implement a broad insight into the different parties and cargoes that occur in shipping. The great variety in customers' operations and the constant updates of regulations mean that every day is different to the other.
What is the best thing about Alandia?
The best thing about Alandia is that I get to work with such knowledgeable and helpful colleagues, and that I have the opportunity to constantly learn and further develop myself here.
I also think it's awesome how Alandia contributes to placing the Åland Islands on the international map.
 ........................................................................................................................................
Vilken är din bakgrund?
Jag är ekonomie magister, med redovisning som huvudämne och handelsrätt som biämne. Jag har en bred erfarenhet inom ekonomi, med allt från att redovisa till att sätta ihop bokslut för börsnoterade bolag. Därtill har jag erfarenhet av att arbeta med riskhantering ur olika perspektiv, bl.a. med revision, operativa risker och nu med fokus på penningtvätt och sanktioner. Jag introducerades tidigt till sjöfarten, som sommarfågel på Viking Line under studietiden.
Varför sökte du till Alandia?
När jag sökte till Alandia var det utmaningen med att implementera Solvens II-rapporteringen som lockade, men jag blev också snabbt och oväntat förtjust i försäkringsverksamheten och den internationella miljö som Alandia är verksam i.
Vad gör du på ditt jobb?
Som Compliance Specialist inom Commercial Marine säkerställer jag att vi känner våra kunder och håller oss inom riskaptiten när det gäller risker för penningtvätt, finansiering av terrorism och sanktioner. Det handlar om allt från att följa uppdateringar i regelverk och anpassa rutiner, till att göra riskbedömningar både på portföljnivå och för enskilda risker.
En dag på jobbet kan handla om att bedöma riskerna i samband med ett fartygs anlöp till ett sanktionerat område, att utreda förmögenheten för en superyacht-ägare och att informera våra underwriters om den senaste sanktionsutvecklingen.
Hur ska man vara och vilka kompetenser behöver man ha för att kunna vara framgångsrik i ditt arbete? 
Det här jobbet är både spännande och framför allt utvecklande för en person som är driven och gillar problemlösning. För att vara framgångsrik behöver man vara strukturerad, ansvarsfull och social. Det är också en fördel att se saker ur ett helhetsperspektiv, att hela tiden vilja utmana och utvärdera om vi kan göra saker på ett bättre sätt.
Med en direkt koppling till kundernas internationella verksamhet, förekommer det stora variationer mellan förfrågningar och ofta är det ont om tid. Man ska därför också tycka om att göra flera saker samtidigt, och snabbt kunna plocka ut viktiga punkter ur stora mängder text.
Vad tycker du är särskilt kul och utmanande med ditt jobb?
Det roliga med mitt jobb är att jag får sätta mig in i kundernas verksamhet, genom stor insyn i vilka olika parter och laster som förekommer inom sjöfarten. Den stora variationen i kundernas verksamheter och konstanta uppdateringar av regelverk gör att den ena dagen inte är den andra lik.
Vad är det bästa med Alandia?
Det bästa med Alandia är alla kunniga och hjälpsamma kollegor, och möjligheten att hela tiden få lära sig och vidareutvecklas.
Jag tycker också att det är häftigt hur Alandia bidrar till att sätta Åland på den internationella kartan.