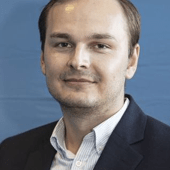 Pelle Holmberg
Underwriter – Marine & Transport underwriting
What is your background?
I am a trained recreational boat mechanic and sea captain. I have worked as a boat mechanic, in archipelago traffic, as a ship agent and most recently as a marine surveyor before joining Alandia.
Why did you apply for a position at Alandia?
Before my time at Alandia, I heard a lot of positive things about the company, and how they are specialists in marine insurance.
What do you do at your job?
I assess risk and price ship insurance for shipowners in Sweden operating in coastal shipping.
How are you required to perform, and what skills do you need to possess in order to be successful in your role?
You need to have good interpersonal and analytical skills and a desire to find good solutions for your customers. We want to work with our clients, and that requires an extra level of commitment, an understanding of the client's business and a community approach to risk management.
What do you find particularly fun and challenging about your job?
What I find most fun is talking to all the good shipowners and making them feel that their ships and responsibilities are in safe hands with Alandia. Security is essential to enable shipowners to make full use of their vessels.
What is the best thing about Alandia?
The community created by colleagues; we have a lot of fun together and learn new things from each other.
.....................................................................................................................................
Vilken är din bakgrund?
Jag är utbildad fritidsbåtsmekaniker och sjökapten. Jag har jobbat som båtmekaniker, inom skärgårdstrafiken, som fartygsagent och även senast som marin besiktningsman innan jag började på Alandia.
Varför sökte du till Alandia?
Innan min tid hos Alandia så fick jag höra mycket gott om företaget och hur de är specialister på just marinförsäkringar.
Vad gör du på ditt jobb?
Jag riskbedömer och prissätter fartygsförsäkringar för redare inom Sverige verksamma inom kustnära sjöfart.
Hur ska man vara och vilka kompetenser behöver man ha för att kunna vara framgångsrik i ditt arbete?
Man bör ha en god social och analytisk förmåga samt ett behov av att göra en bra lösning för kunderna. Vi vill arbeta med kunderna och då krävs extra mycket engagemang, förståelse för kundens verksamhet och en gemenskap i riskhanteringen.
Vad tycker du är särskilt kul och utmanande med ditt jobb?
Det roligaste är att få prata med alla duktiga redare och att få göra så dessa känner att deras fartyg och ansvar är i trygga händer hos Alandia. Det är viktigt med trygghet för att redarna ska kunna nyttja sina fartyg fullt ut.
Vad är det bästa med Alandia?
Gemenskapen mellan kollegorna, vi har väldigt kul tillsammans och lär oss nya saker av varandra.