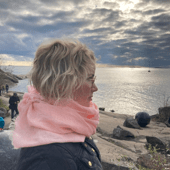 Eeva Sassi
Business Controller – Finance
What is your background?
I am an economist and have studied accounting, finance and corporate law at university. I have work experience in financial administration, financial management and corporate tax consulting in a listed company.
Why did you apply for a job at Alandia?
I was interested in an opportunity to work with an IFRS conversion in an insurance company with roots in Åland Islands.
What do you do at your job?
As financial controller, I am responsible for designing the Alandia Group's path for IFRS conversion, implementation and report restructuring as well as overall financial reporting data.
My role also includes managing the company's overall administrative functions for the investment portfolio, which involves creating, executing and optimizing processes and ensuring that this data complies with regulatory standards.
How are you required to perform and what skills do you need to have in order to be successful in your work?
The freedom to influence one's own work and one's own timetable also means that one should be able to take independent responsibility for one's tasks and have them completed within agreed time frames.
What do you find particularly fun and challenging about your job?
The tasks are varied and I get to be involved in investigating and implementing new things.
What is the best thing about working at Alandia?
The work culture in mainland Finland is somewhat different than in Åland Islands and this is reflected in a positive way in the company's way of managing its employees.
............................................................................................................................

Vilken är din bakgrund?
Jag är ekonom och har studerat redovisning, finansiering och bolagsrätt på universitet. Jag har arbetslivserfarenhet inom ekonomiadministration, ekonomiförvaltning och företagsskatterådgivning i ett börsnoterat företag.
Varför sökte du till Alandia?
Jag var intresserad av en möjlighet att få arbeta med en IFRS-konvertering i ett försäkringsbolag med rötter på Åland.
Vad gör du på ditt jobb?
Som finansiell controller är jag ansvarig för att utforma Alandia-koncernens väg för IFRS-konvertering, implementering och rapportomstrukturering samt övergripande finansiell rapporteringsdata.
I min roll ingår också att hantera företagets övergripande administrativa funktioner för investeringsportföljen, vilket innebär att skapa, utföra och optimera processer och säkerställa att dessa data överensstämmer med lagstadgade standarder.
Hur ska man vara och vilka kompetenser behöver man ha för att kunna vara framgångsrik i ditt arbete?
Friheten att kunna påverka det egna arbetet och sin egen tidtabell innebär också att man ska kunna ta självständigt ansvar för sina arbetsuppgifter och få dem slutförda inom överenskomna tidsramar.
Vad tycker du är särskilt kul och utmanande med ditt jobb?
Arbetsuppgifterna är varierande och jag får vara med och utreda och implementera nya saker.
Vad är det bästa med att jobba på Alandia?
Arbetskulturen i fasta Finland är något annorlunda än på Åland och det återspeglas i företagets sätt att hantera sina anställda på ett positivt sätt.