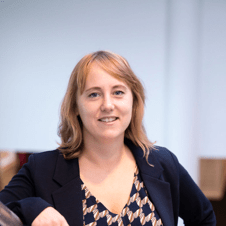 Johanna Karlström
Loss Prevention Executive – Loss Prevention
What is your background?
I have a Bachelor's degree in Behavioural Science/Psychology and MSc in Psychology. I have worked as a curator and run my own company in the events and health industry in the past. Throughout my school years, I worked part-time in check-in for Viking Line.
Why did you apply for a job at Alandia?
The job description sounded intriguing and I was ready to try out a new industry with new challenges and opportunities. I thought the basis for the recruitment was thrilling as the person who recruited me (my current boss – the Senior Loss Prevention Manager) said that he was looking for someone with a different perspective than his own. With different backgrounds and expertise, we are more able to create a broader view of the world we live in, and become more qualitative, creative and complementary as a team.
What do you do at your job?
Loss Prevention is an "added value" service for customers who take out an insurance with Alandia, so for us it is important that we offer these customers sustainable and useful loss prevention. It is in both our and the customer's interest to prevent damage. In practical terms, this means that I handle all our channels towards customers and potential customers. I help develop loss prevention materials and tools, and contribute to this process with my knowledge in human factors. I also coordinate loss prevention events and arrangements. Facts are an important part of the job, so I follow claims analyses in the industry, and do my own damage analyses for various projects.
How are you required to perform and what skills do you need to have in order to be successful in your work?
It is easy to write long articles with complicated words, but it is more difficult to produce what is really needed and makes a difference. You need to be engaged and driven to find out what your customers and the industry truly need, and you need to know how to solve different problems, as well as how to work proactively. It is also important to have accurate knowledge and analytical skills as you need to understand the connection between different claims or incidents and the root cause for them. There is a requirement to be responsible in my work, as we often handle sensitive issues, and this also applies to working towards a more sustainable industry.
What do you find particularly fun and challenging about your job?
That my work is so varied, two days are never the same. Shipping is a complex business with both a land organization and floating organizations that collaborate in a shipping company. To make it even more complex, there are many different types of ships, shipping operations and organizational structures. I don't think I'll ever be fully knowledgeable in my job: my learning curve is still pointing steeply upwards even though I've been working here since 2019. I think it feels good to be able to help and contribute with knowledge about how people work, as all organizations, whether they are on land or water, are dependent on human factors and achievements.
What is the best thing about working at Alandia?
Alandia is a very reliable and stable employer and I have such wonderful colleagues here. There is flexibility and development opportunities, which I appreciate very much. And I must say, I genuinely feel it is very exciting to be part of Alandia's journey towards becoming a European marine insurance specialist.
..................................................................................................................................
Vilken är din bakgrund?
Jag har Fil. kand. i beteendevetenskap/psykologi och Msc i Psykologi. Jag har jobbat som kurator och drivit eget företag inom evenemang/hälsa. Under hela min skoltid har jag deltidsjobbat som incheckningspersonal för Viking Line.
Varför sökte du till Alandia?
Arbetsbeskrivningen lät väldigt intressant och jag var redo att pröva en ny bransch med nya utmaningar och möjligheter. Jag tyckte att utgångspunkten för rekryteringen var spännande då den som rekryterade mig (min chef – Senior Loss Prevention Manager) sa att han sökte någon som hade ett annat perspektiv än hans. Med olika bakgrunder och expertis har man en bredare världsbild och blir mer kvalitativa, kreativa och kompletterande som team.
Vad gör du på ditt jobb?
Loss Prevention är ett "added value" för kunder som köper försäkring hos Alandia, så för oss är det viktigt att erbjuda kunden ett hållbart och användbart skadeförebyggande. Det ligger både i vårt och kundens intresse att förebygga skador. Rent praktiskt sköter jag alla våra kanaler mot kunder och potentiella kunder. Jag hjälper till att ta fram skadeförebyggande material och verktyg och bidrar med min kunskap inom mänskliga faktorer. Jag koordinerar även skadeförebyggande evenemang och arrangemang. Fakta är en viktig del av jobbet, så jag följer med skadeanalyser inom branschen och gör även egna skadeanalyser för olika projekt.
Hur ska man vara och vilka kompetenser behöver man ha för att kunna vara framgångsrik i ditt arbete?
Det är lätt att skriva långa artiklar med många krångliga ord men det är svårare att ta fram det som verkligen behövs och gör en skillnad. Man behöver vara engagerad och driven för att ta reda på vad kunderna och industrin behöver och hur man kan lösa olika problem, samt arbeta proaktivt. Det är också viktigt att ha rätt kunskap och analysförmåga, man behöver förstå samband mellan olika skador/incidenter med vad som är grundorsaken. Man behöver vara ansvarsfull då det många gånger hanteras känsliga frågor och det även gäller arbete mot en mer hållbar industri.
Vad tycker du är särskilt kul och utmanande med ditt jobb?
Att det är så varierat, ingen dag är den andra lik. Sjöfarten i sig är en komplex business med både landorganisation och flytande organisationer som tillsammans ska samverka i ett rederi. För att göra det ännu mer komplext finns det många olika typer av fartyg, rederiverksamheter och organisationsstrukturer. Jag tror inte att jag någonsin blir fullärd, min inlärningskurva pekar fortfarande brant uppåt fast jag har jobbat här sen 2019. Jag tycker det känns bra att få hjälpa till och bidra med kunskap hur människor fungerar, då alla organisationer, vare sig de finns på land eller vatten, grundar sig på mänskliga faktorer och prestationer.
Vad är det bästa med att jobba på Alandia?
Alandia är en väldigt trygg och stabil arbetsgivare med härliga kollegor. Det finns flexibilitet och utvecklingsmöjligheter. Det är också väldigt spännande att vara med på Alandias resa mot att bli europeisk marinförsäkringsspecialist!