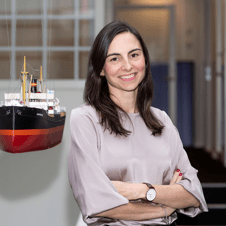 Marina Stenfors
Communications Director – Communication & Marketing
What is your background?
I have a diverse and extensive experience in corporate and brand communications, and in recent years also in ESG (sustainability communications). I have worked in this field in different sectors: the public sector, as a consultant and in the private sector with several years of experience in communications for listed companies specialised in energy and high technology.
I have a Master's degree in Politics from the University of Helsinki. I majored in general political science, minored in law and leadership, and later in communication.
Why did you apply for a position at Alandia?
I applied to Alandia for several reasons. One of the main reasons was the international environment in which Alandia operates and the marine industry itself, which I find incredibly exciting.
I like constant development, and I am driven by learning and discovering new things. The position offered at Alandia was also broad: it encompassed communications, branding, B2B marketing and sustainability, which all appealed to me. Much was familiar, but the position also touched on new, interesting areas.
I was also ready to try a new industry with fresh challenges. The insurance industry is facing a time where customers expect to quickly and easily get the appropriate insurance at the right competitive price.
What do you do at your job?
I work with internal and external communications, strategic communications, B2B marketing, Alandia's brand and ESG. My work is both strategic and hands-on, i.e. I actually produce a lot of material myself and I enjoy writing.
In addition to these tasks, I allocate my time for managerial tasks, and the tasks and time my management duties require.
How are you required to perform, and what skills do you need to possess in order to be successful in your role?
I consider my work to be people-oriented to a high degree, and that it requires a solid ability to collaborate, a positive attitude, an ability to think strategically, but also pragmatically and flexibly, and an understanding of the insurance and marine industry as a whole along with the challenges it faces.
To be successful in this role, you need to be committed as a person and as a colleague, able to create community and drive, able to share your expertise and constantly develop yourself and your environment. As a leader, I believe in coaching and helping the people I manage discover solutions by themselves as they are the true experts at their work.
What do you find particularly fun and challenging about your job?
I find my work on ESG particularly interesting and rewarding. It's a challenging area, because it's so incredibly broad and there are as many perspectives and opinions as there are people.
I am very pleased that we have incorporated the UN Principles for Sustainable Insurance (UN PSI), and that we have managed to integrate ESG into our new corporate strategy along with setting concrete targets and KPIs for driving sustainability forward with such a clear link to our business operations. Sustainability is not a separate thing in our company, but directly integrated in our daily work and business. I am also very pleased and proud of our first sustainability report made to the UN: https://alandia.wntr.io/uploads/2022/06/alandia-disclosure-1-un-principles-for-sustainable-insurance-report-2021-2022-final.pdf
What is the best thing about Alandia?
You get to work with driven people who seek to develop their skills and I think it's fun to work in a company with a local heritage while our customers on the other hand move all over the world. Alandia is constantly evolving and the staff are committed and take great responsibility for their work.
As the company is relatively small, it offers the opportunity to work with a wide range of responsibilities, which is both fun and motivating!
...........................................................................................................
Vilken är din bakgrund?
Jag har en mångsidig och lång erfarenhet inom kommunikation- och brand och under senaste år även inom ESG (hållbarhet). Jag har jobbat med dessa frågor inom olika branscher: den offentliga sektorn, som konsult och inom den privata sektorn med flera års erfarenhet av börsnoterade bolag specialiserade inom energi- och högteknologi.
Till min utbildning är jag politices magister från Helsingfors universitet. Mitt huvudämne var allmän statslära, som biämnen läste jag rättsvetenskap och ledarskap och senare även kommunikation.
Varför sökte du till Alandia?
Jag sökte till Alandia av flera orsaker. En av de största orsakerna var den internationella miljö Alandia verkar i samt själva marinbranschen, som jag upplever som otroligt spännande.
Jag är en person som gillar ständig utveckling och drivs av att lära mig och upptäcka nya saker. Rollen var bred: den innefattade både kommunikation, varumärke, B2B-marknadsföring och hållbarhet, vilket tilltalade mig. Mycket var bekant, men också nya, intressanta områden.
Jag var även redo att pröva en ny bransch med nya utmaningar. Försäkringsbranschen står inför en period där kunderna förväntar sig att snabbt och enkelt få åtkomst till rätt försäkring till rätt konkurrenskraftiga pris.
Vad gör du på ditt jobb?
Jag jobbar med intern- och extern kommunikation, strategikommunikation, B2B-marknadsföring, Alandias varumärke och ESG. Mitt jobb är både strategiskt och "hands-on", d.v.s. jag producerar även mycket material själv och tycker om att skriva.
Förutom dessa uppgifter fördelar jag min tid för chefsuppgifter och de uppgifter och tid ledningsteamsarbetet utgör.
Hur ska man vara och vilka kompetenser behöver man ha för att kunna vara framgångsrik i ditt arbete? 
Jag upplever att mitt arbete är ett väldigt människonära arbete där man bör ha en god förmåga att samarbeta, en positiv attityd, en förmåga att tänka strategiskt, men även pragmatiskt och flexibelt samt en förståelse för försäkringsbranschen och marinindustrin och de utmaningar branschen står inför.
För att vara framgångsrik i denna roll krävs ytterligare att man som person och medarbetare är engagerad, kan skapa gemenskap och driv, kan dela med sig av sin kompetens och hela tiden utveckla sig själv samt sin omgivning. Som ledare tror jag på att coacha och hjälpa de människor jag lyckas hitta lösningarna själva eftersom de är de verkliga experterna på sitt arbete.
Vad tycker du är särskilt kul och utmanande med ditt jobb?
Särskilt intressant och givande tycker jag att arbetet kring ESG är. Det är ett utmanande område, eftersom området är så otroligt brett och det finns lika många infallsvinklar och åsikter som det finns människor.
Jag är mycket glad att vi gått med i UN Principles for Sustainable Insurance (UN PSI), att vi lyckats integrera ESG:n i vår nya bolagsstrategi, ställt upp konkreta mål och KPI:er för hur driva hållbarheten vidare och gjort en så klar koppling till vår affär. Hållbarhet är inte en skild grej i vårt bolag, utan direkt kopplad till det dagliga arbetet och affären.Jag är också väldigt glad och stolt över vår första hållbarhetsrapport till FN: https://alandia.wntr.io/uploads/2022/06/alandia-disclosure-1-un-principles-for-sustainable-insurance-report-2021-2022-final.pdf


Vad är det bästa med Alandia?
Jag får jobba med drivna människor som vill utvecklas och jag tycker det är givande att få jobba i ett företag med lokal förankring och historia samtidigt som våra kunder rör sig över hela världen. Alandia utvecklas hela tiden och personalen är engagerad och tar stort ansvar för sitt arbete.
Eftersom bolaget är relativt litet, ger det möjlighet att jobba med breda ansvarsområden, vilket är både roligt och motiverande!